Preschool
PRE-NURSERY PROGRAMME (2 - 3 years old)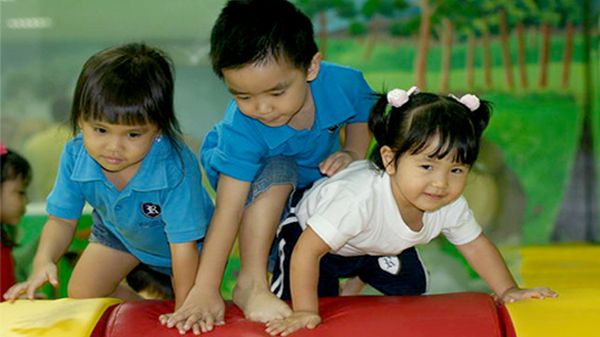 Many children at this age may be nervous about being away from parents in their "first school experience". Our Pre-Nursery teachers recognize the importance of relationship building and the need to provide a sense of security. We aid parents in this home-to-school transition by providing practical tips to ease your child's separation anxiety. Close bonding activities and daily routines will help provide your child with a sense of stability and belonging, making Regents a home away from home.
In particular, our Pre-Nursery programme emphasizes child-initiated learning, empowering our young to explore and experience the world around them. Teachers plan and integrate language experiences, numeracy, music and movement, aesthetics and creativity, motor skills and social interactions through activities like circle time, puppet play, sensory art, and imaginary play. Physical development of gross motor skills and fine motor skills is also important and achieved through play-based activities that concurrently allow your child to form close bonds with their friends.
NURSERY PROGRAMME (3 - 4 years old)
The move from Pre-Nursery to Nursery is an exciting time. Your child can express thoughts through words or exhibit emotions in many ways. You will be amazed how quickly your child can pick up words, phrases, songs and rhymes from teachers and friends. We make sure that our Nursery programme provide a range of activities as endless as your child's imagination.
Through daily routines, direct teaching, animation stories, situational practices, games and crafts, we inspire our children effective and positive attitudes toward problem solving and self-regulation. We equip them with leadership skills, to be observant, creative, quick thinking, adaptable and resilient. These become cornerstones of their character growth and valuable assets to our children in their lifelong learning journey in a global environment.